Eat Healthier Fats.
Introducing Unrefined Cold Pressed Oils.
Cold Pressed Oils All Purpose - Cook, Eat Raw and Apply on Skin and Hair
Remove ultra-processed commercial refined cooking oils and switch to Advait Living's Cold Pressed Oils (असली कच्छी घानी का तेल) that are grown and...
Remove ultra-processed commercial refined cooking oils and switch to Advait Living's Cold Pressed Oils (असली कच्छी घानी का तेल) that are grown and processed at our regenerative farm. Be assured of purity and nutrition with our 'single/ first-pressed' oils that provide maximum bio-availability with Zero Chemicals, Zero Hexane, Zero Hydrogenation, Zero Blending, Zero Mixing, Zero additives or Preservatives. Highly aromatic and flavourful. NO ARTIFICIAL PUNGENCY (no eye irritation or excess smell).
Read More +
Wood Pressed Oils Prices & Deals
Read More +
Why Advait Living's Cold Pressed Oils?
Wood Pressed
Seeds are pressed in traditional wooden chekku at low RPM.
Single Press Grade 1 Quality
Seeds are pressed only once.
100% Natural
Free from all chemicals & hexane solvents.
Bioavailable
Packed with nutrients that are most bioavailable.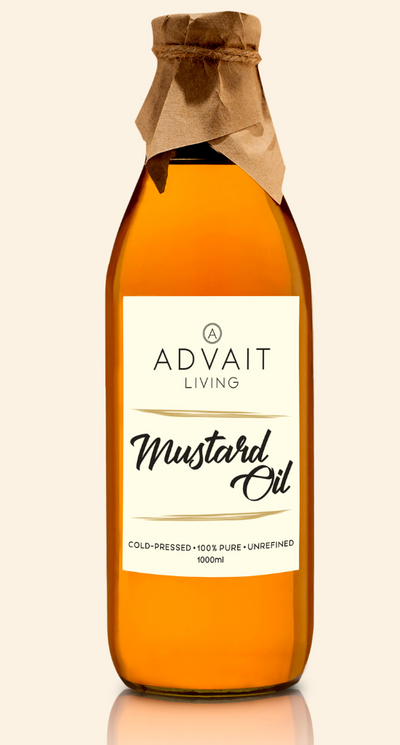 High Heat Stability
Remains stable and does not go rancid under heat.
All-Purpose Oils
Use for cooking, deep-frying, sautéing, and even drizzling.
Apply on Skin & Hair
Grade 1 quality and can be used even on skin and hair.
Our wood pressed oils are traditionally made
All our produce is locally grown within India and on our regenerative farm or partner farms. This helps us access highest quality local seeds.
Each season, when the produce is ready for harvest, the produce is manually harvested and threshed locally at the farms.
Highest quality seeds are graded and selected for our oil extraction. This brings out delightful flavours and natural aromas in the oils.
We employ the lost art of traditional oil extraction - ghani oils that are single pressed on wooden chekkus at low RPM. No heat is induced or solvents added.
Once the oil is extracted, it is naturally sedimented in gravity filters for at least one week. We do not use any chemicals, artificial pungencies or preservatives at any stage.
Highly aromatic and flavorful oils that are nutritionally rich are packed in safe glass bottles for you.
MAKING OF MUSTARD OIL
Watch Now.
Bring Home Health with Cold Pressed Oils
Indians have been using traditional ghani oils (cold pressed oils) for centuries. They are also called "raw and unrefined oils'. Mounting evidence shows that cold pressed oils are much more heat-stable, nutritional, and MUFA-rich (depending on the respective oils) than their refined counterparts or any industrially produced solvent oil.
Cold Pressed at below 50 Degrees:
Cold pressing is really about minimising heat and keeping the seeds as cool as possible while extracting oils. They are usually taken out under 50 °C or lower to produce the highest quality of oil.
Single Pressed & Extra Virgin:
Typically cold pressed oils are single-pressed making them extra virgin and of superior quality than refined oils. Oilseeds that are pressed multiple times are cheaper, but contain unwanted by-products during extraction.
High Heat Stability:
Cold pressed oils are highly stable under heat and are suitable for all types of cooking, including deep frying.
Trans Fats Free:
Research shows that cold pressing doesn't produce harmful trans fatty acids during extraction.
Zero Heat Solvents:
No petroleum solvents such as 'Hexane' or any other toxic solvents are used for extracting of such oils.
Zero Blending:
Common practice is to blend oils with other oils to reduce cost. Oils such as argemone, palm, rice bran or soyabean, etc are often used. However, good quality cold pressed oils will be 100% single ingredient oil. They will not be blended with any other oil.
No Artificial Pungency:
Cold pressed oils will not have strong pungency as no artificial chemicals are used to increase aromas or flavours. Rather they are naturally aromatic and highly flavourful.
Nutrition Packed:
These oils are naturally packed with bioactive compounds that can easily be accessed and broken down by our bodies.
Prepared in small batches:
Unlike commercially available oils, which are made in large factories, farm-made cold-pressed oils are made in small batches and prepared fresh. This ensures freshness and increases the availability of bioactive compounds.
Multipurpose:
Since these oils are of the highest grade, they can be used for cooking, sauteing, drizzling and even for oil pulling & skincare.
Frequently Asked Questions
Cold pressed oils are those which are extracted via a technique called 'cold pressing'. Cold pressing really means minimising heat and keeping the seeds as cool as possible while extracting oils. Under this technique oil seeds are pressed mechanically to extract oil without using any heat solvents or high temperatures. Typically, such oils are extracted at temperatures under 50-55 °C or lower (depending upon the machine used).
Wood pressed oils are those oils that are pressed using a wooden chekku (wooden ghani) which rotates and pressed the seeds slowly thereby minimising heat production (they maintaintain temperatures below 50 degrees). Traditional ghani's were manual, today mechanical ghani's are used, preserving the ancient technique and the oils obtained by this technique is of superior quality.
Any oil that is taken out without using heat solvents or application of high heat are called cold-pressed oils. Hence, all wood pressed oils are cold pressed. However, not all cold pressed oils are called wood pressed oils as not all machines are made of wood. Some are also made of steel and other material.
The main difference between refined and cold pressed oil is the extraction process. Typically, refined oils are commercially produced in large factories and in large quantities. Refined oils are extracted using a) heat-solvents such as hexane and b) application of extreme heat. Refined oils also typically undergo "re-fining" that cleans extracted oils to make them consumable as the heat-extraction produces harmful by-products.
Wood cold pressed oils are the highest grade of oils. They are obtained without undergoing any harsh chemical treatment or excessive heat process. As such they retain most of the nutrients. Research also indicates higher levels of bio-active compounds in cold pressed oils. Furthermore, they contain valuable nutrients such as — essential fatty acids, phospholipids, antioxidants such as tocopherols (eg. Vitamin-E) & phosphatides (eg Lecithin), sterols, hydrocarbons (squalene), carotenoids among others. Much more than their heat-solvent / refined oil counterparts.
Read here for the difference between cold pressed and refined oils
Cold pressed oils come in different grades of quality. 'Single Pressed' or 'Extra Virgin' Oils are the highest quality of oils as the seeds are pressed only once and under 50 degrees temperatures. No chemical washing, preservatives or blending is done and as such, these oils are of the most superior quality. 2nd grade of cold pressed oils refer to oils that have been extracted by multipressing of seeds. Such practice is done to increase production of oils and are typically of lower quality. Refining of oils produce the lowest quality of oils as they are pressed using heat-solvents and at extremely high temperatures to maximize yeild. However, such extraction technique produces unstable oils that easily go rancid and need a lot of chemical washing and preservatives to make them shelf-stable.
Yes, you can use most of our oils for oil pulling. Ayurveda recommends Sesame Oil – you can add some cloves to the oil and keep it overnight to add additional medicinal benefits to oil pulling. Our absolutely fresh smelling wood pressed coconut oil is also highly effective for oil pulling and to flush out toxins from your body. For best results mix sesame oil and coconut oil with cloves and keep overnight before starting your oil pulling routine. Read here for the most effective Oil Pulling technique
Our cold pressed coconut oil is an all-purpose oil and comes with many skincare benefits. It can be used as a DIY hair mask, face wash, lip scrub, natural soap base, and more. You can also use our coconut oil in place of your body moisturiser and makeup remover. Read here for more remedies with coconut oil
Yes, our wood pressed castor oil is 100% pure and edible made from farm grown castor seeds that are traditionally pressed on a wooden chekku to get natural and thick castor oil. Read here for benefits of castor oil
No, we do not add any chemicals, additives, or preservatives to our cold-pressed oils. These oils contain natural flavours and aromas and processed in the most natural ways.
Our best recommendation is 6 months from the date of manufacturing. However, you can safely use them till the time they do not change their colour or go rancid.
Our cold pressed oils are packed in glass bottles for sizes – 100ml, 250ml, 500ml, 1Litre. However, 5 Litres packs come in plastic cans as large glass containers get damaged during transit. PLEASE NOTE – Our 1 Litre packs in Mustard Oil, Groundnut Oil, Sesame Oil are shipped in Plastic Bottles only. This is because our 1Ltr oil bottles are made of fragile glass and have got damaged multiple times. We are looking for alternates and will shift soon to better solutions.
Yes, we are Sodexo enablled. You can purchase food items from your Sodexo mealcard via our website.
Discounted rates available for corporates enabled with Sodexo Mealcards to offer to their employees. Reach us on +91908489425 (Whatsapp) to purchase bulk corporate discounts for your company.
Read More +