Premium Gourmet Gifting.
Gifts that are elegant, unique and delectable at the same time.
Experience Premium Gifting with Advait Living
Create a Lasting Impression
Choose from our memorable and personalized gifts that will surely leave a lasting impression on clients, employees, and business partners.
Blends Beauty and Functionality
Move away from traditional sweets and mithai and give gifts that are beautiful and a keepsake.
Handcrafted Goodness
Beat mass-produced promotional gifts with handcrafted goodness that is rooted in elegance and authenticity.
Perfect for All Occasions
Select from a range of ideas that are suitable for all occasions from birthdays, small personalized events to large corporate gifting.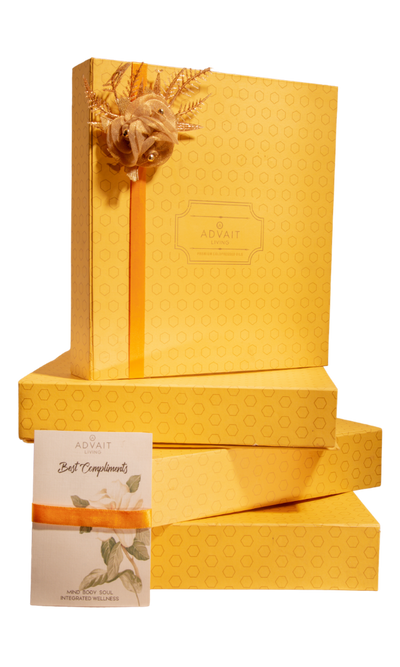 Built to Forge Meaningful Relations
Designed to evoke care and a smile, these authentic ideas surely deepen relationships.
Promise of Good Health
Rooted in a promise of good health and made with love, each of our gift boxes and hamper is exceptional.
Curate Your Own
Get creative and build a gift that is unique and personalised for your loved ones. Our team will help you to curate something that truly speaks your style!
Explore Our Gifting Range
Read More +
| Top Gift Hamper | Title | | Price |
| --- | --- | --- | --- |
| Āśaya Dessert Box | Luxury Gifting Box | 24-Carat Gold | Perfect For All Occasions | Default Title | | Rs. 3,950.00 |
| Āśaya Beverage Box | Luxury Gifting Box | 24-Carat Gold | Perfect For All Occasions | Default Title | | Rs. 3,200.00 |
| Āśaya Pichwai Kamal Tea Set | Luxury Gifting Box | 24-Carat Gold | Perfect For All Occasions | Default Title | | Rs. 4,350.00 |
| Āśaya Solace Tea Gift Box | Luxury Gifting Box | 24-Carat Gold | Perfect For All Occasions | Default Title | | Rs. 4,650.00 |
| Āśaya Tête-à-Tête Tea Gift Box for Two | Luxury Gifting Box | 24-Carat Gold | Perfect For All Occasions | Default Title | | Rs. 4,800.00 |
| Wellness Essentials | Gift Box | Set of 4 Artisanal Cold Pressed Oils | Default Title | | Rs. 1,245.00 |
| Love For Chai | Gift Hamper | Sustainable | Ships Plastic-Free | Yellow | | Rs. 1,560.00 |
| Energy Boost | Gift Hamper | Sustainable | Ships Plastic-Free | Yellow | | Rs. 1,685.00 |
| Nourish Your Skin | Festive Gift Tray | Clean Beauty | Default Title | | Rs. 2,490.00 |
| Sweet Delight Festive Potli | Gourmet Gift Set | Perfect for All Occasions | Default Title | | Rs. 775.00 |
| Utsav Premium | Gourmet Gift Basket | Default Title | | Rs. 3,780.00 |
| Utsav Classic | Gourmet Gift Basket | Default Title | | Rs. 2,490.00 |
| Wellness Gourmet | Gift Box | Set of 4 Artisanal Cold Pressed Oils | Default Title | | Rs. 2,495.00 |
| Super Healthy Festive Potli | Gourmet Gift Set | Default Title | | Rs. 495.00 |
| Thandai Gift Kit | Set of 3 | Unsweetened Thandai Powder, Raw Honey, Spiced Gulkand | Makes 5-6 Glasses | Default Title | | Rs. 799.00 |
| Cha Festive Potli | Premium Tea & Honey Gift Set | Default Title | | Rs. 645.00 |
| Utsav Essentials | Gourmet Gift Basket | Default Title | | Rs. 2,100.00 |
| Healthy Mithaas Platter | Festive Gift Tray | Handcrafted Goodness | Default Title | | Rs. 2,690.00 |
Gifting for Any Occasion
Wedding Invitations
Gifts for Him/Her
Diwali Gifting
Thank You Gifts
Personalized Gifts
Birth Announcements
Festive Gifting
House Warming Gifts
Corporate Gifting
Gift of Love
Women's Day
Holi Gift Hampers
Sustainable Gifting
Gifts to Suit all Budgets
Consider our handpicked selection of exceptional gifting ideas that align with health-consciousness and personalisation. These gifts are not just tokens, they are expressions of gratitude and encouragement, designed to make a lasting impact on recipients. Our collection goes beyond conventional items, offering a range of options suitable for every budget.
Luxury Gifting (Above Rs. 3000/-):
Elegant gifting that blends thoughtfulness and personalization evokes intimacy and delight! Select from our exquisite luxury collection for the discerning few who have an unmatched taste for finer things in life!
Premium Gifting (Rs. 3000-2000/-):
Nurture stronger relationships with key clients, associates and individuals who value aesthetics and functionality. These premium offerings are rooted in simplicity and convey sincere appreciation, whether that be personal or corporate.
Classic Gifting (Rs.2000-1000/-):
Celebrate people and moments with gifts that bring a smile to your face! Thoughtfully curated to be unique, stylish and creating a lasting impression, our classic range of gifts deepen bonds and spread joy!
Budget Gifting (Under 1000/-):
Suitable for all. Delight your loved ones, friends, family or even clients with a token of appreciation that makes gifting a joy!
Frequently Asked Questions
Advait Living's offerings stand distinct from the customary gifts of mithai, sweets and dry fruits that, while appreciated, often find themselves being passed around. In today's health-conscious society, the consumption of such traditional gifts has declined. Advait Living's gifts are a refreshing change, offering not only health benefits but also ensuring they are memorable and thoughtful. Whether it's our premium ghee, cold-pressed oils, pure honey or any of our bespoke gift boxes, all our gifting solutions are beautiful, functional, useful, and cherished by recipients, making them a fresh alternative to conventional gifting choices.
Absolutely! At Advait Living, each of our gift boxes and hampers exudes elegance while emphasizing health. You can choose from a vast array of options that blend aesthetics with health perfectly. Moreover, we would personally recommend our jute baskets that offer style and easy customization. You can also explore our bespoke Āśaya luxury gifting boxes or even the wellness box as all of these options beautifully encapsulate the fusion of health and aesthetics you're searching for.
You are in luck! Every gifting box/hamper and all of our products are perfect for festive gifting, especially at Diwali. You can explore our range to find something that suits your eclectic tastes. If you are looking for understated luxury, then do explore our Āśaya luxury gifting collection which is a top-tier choice. However, if you're seeking something more reasonably priced, our wellness box is a splendid alternative. For more ideas and a broader range of suggestions, please explore the
2023 Gift Guide to 10 Amazing Luxury Diwali Gifts
All Advait Living products are non-GMO. While not all our items are certified organic, they are 100% pure and naturally grown with zero nasties. All produce is processed fresh and in small batches with no preservatives, additives, or chemicals, ensuring 100% purity. For assurance, our products undergo lab testing, and reports can be accessed on respective product pages.
We take immense pride in our rigorous quality checks. All of our produce is cultivated on our own farms or partner farms with certified organic practices. And all the processing is done traditionally and with minimal interventions, with the core aim of keeping freshness & nutrition intact. All processing happens on our farm or in-house – cleaning, grading, threshing, grinding, extracting to packaging; every processing step is executed by our trained farmers and staff, enabling us to maintain the highest quality standards. Moreover, we emphasize transparency by providing lab-tested reports for our produce, accessible directly on our website.
The longevity of our products varies from item to item. Products like our A2 cow ghee and cold-pressed oils can last between 6-9 months. Other products such as gulkand and raw honey can last for more than a year and other items such as our low-carb atta only have a shelf life of about a month. For detailed shelf life information, our respective product pages are a handy resource. If you need additional information, please do reach out to our dedicated team via email or phone.
Absolutely! At Advait Living, we understand diverse dietary preferences. We offer both vegan and gluten-free product options. Should you wish to tailor your hampers with such products, please reach our team, which is always available to assist you with any customization requirements.
At Advait Living, we are ever-evolving to find more unique ways to bring health, functionality and beauty together. Our Āśaya luxury gifting collection is an experience of elegance, bespoke artistry, functionality and quality. The collection is at heart an intention of 'bringing solace to the soul' and this collection features exquisite designs of platters, tea cups, glasses and beautifully crafted tumblers. Complimenting each piece is our selection of gourmet produce, each chosen for its uber quality and taste. Each gift box is carefully curated to be complete on its own. And each box is a tale of exquisite craftsmanship and luxury that will make a lasting impression.
Both the 'classic Utsav gift hamper' and the 'premium Utsav gift hamper' are elegantly presented in the same signature stylish basket, but what sets them apart are the treasures inside. While the essence and luxury remain consistent, items in each gift basket differ. The selection in each of the baskets is curated to provide a varied gourmet experience that will delight the recipient in their unique ways. For a deeper understanding of the curated items in each of the hampers, you can explore our classic Utsav basket and premium Utsav product page.
Cold-pressed oils are artisanal treasures. Not only are they 100% pure and meticulously extracted with the utmost care, but they are also incredibly healthy and versatile. Their purity ensures that the benefits of the source ingredient remain intact. Gifting such oils reflects your thoughtfulness and care for the well-being of the recipient, making them both a unique and endearing choice. It is an ideal gift box for people who are health-conscious, have discerning tastes and enjoy the finer things of life!
Yes, we do offer corporate gifting solutions. From bulk orders, customization or logo printing to tailoring a solution that fits your requirements, we offer a seamless service. For bulk or large orders, please contact our dedicated team for assistance via email (advaitliving@gmail.com) or WhatsApp (+91 90848 94625). For innovative corporate gifting ideas, you could also explore
Unique Corporate Gifts That Stand Out in a Post-Pandemic World
Absolutely! We pride ourselves on offering tailored solutions. Just drop us a mail or message us on WhatsApp detailing your requirements, and our team will assist you with options that fit your budget and preferences.
Personalization extends the intimacy of being involved and carries the weight of your curation for a recipient. Personalize your gift boxes or even hampers with beautiful cards from our selection. You can add a personal message, the names of the recipient, the names of the sender and even the company logo on the cards. And if you require gift boxes with your company's logo or a specific name on the outer boxes, we can accommodate that too. For any such customizations, please reach out to our team.
For bulk orders, especially during peak festive seasons, we suggest placing your orders 30-60 days in advance to ensure timely delivery.
Certainly! While our products are competitively priced, we do offer discounts and bulk pricing options for substantial orders.
For any specific requirements, bulk orders, or customizations, please get in touch with our dedicated team. You can reach us via email at advaitliving@gmail.com or WhatsApp us at +91 9084894625 for more details.
Absolutely! We have partnered with world-class courier services that cater to all pin codes across India. We also offer rail and transport cargo options depending on the size of the bulk order. However, if for any reason we can't service a particular location, we will inform you before taking the order.
Tracking details are provided once the order has been despatched, to assist you in monitoring your purchase until it reaches your doorstep.
While we do not entertain returns or cancellations, we are committed to your satisfaction. If a product arrives damaged, we'll make sure to address the issue and provide a suitable resolution.
As of now, we do not ship internationally. However, we are continuously updating our services, and we'll notify our customers once this option is available.
Read More +